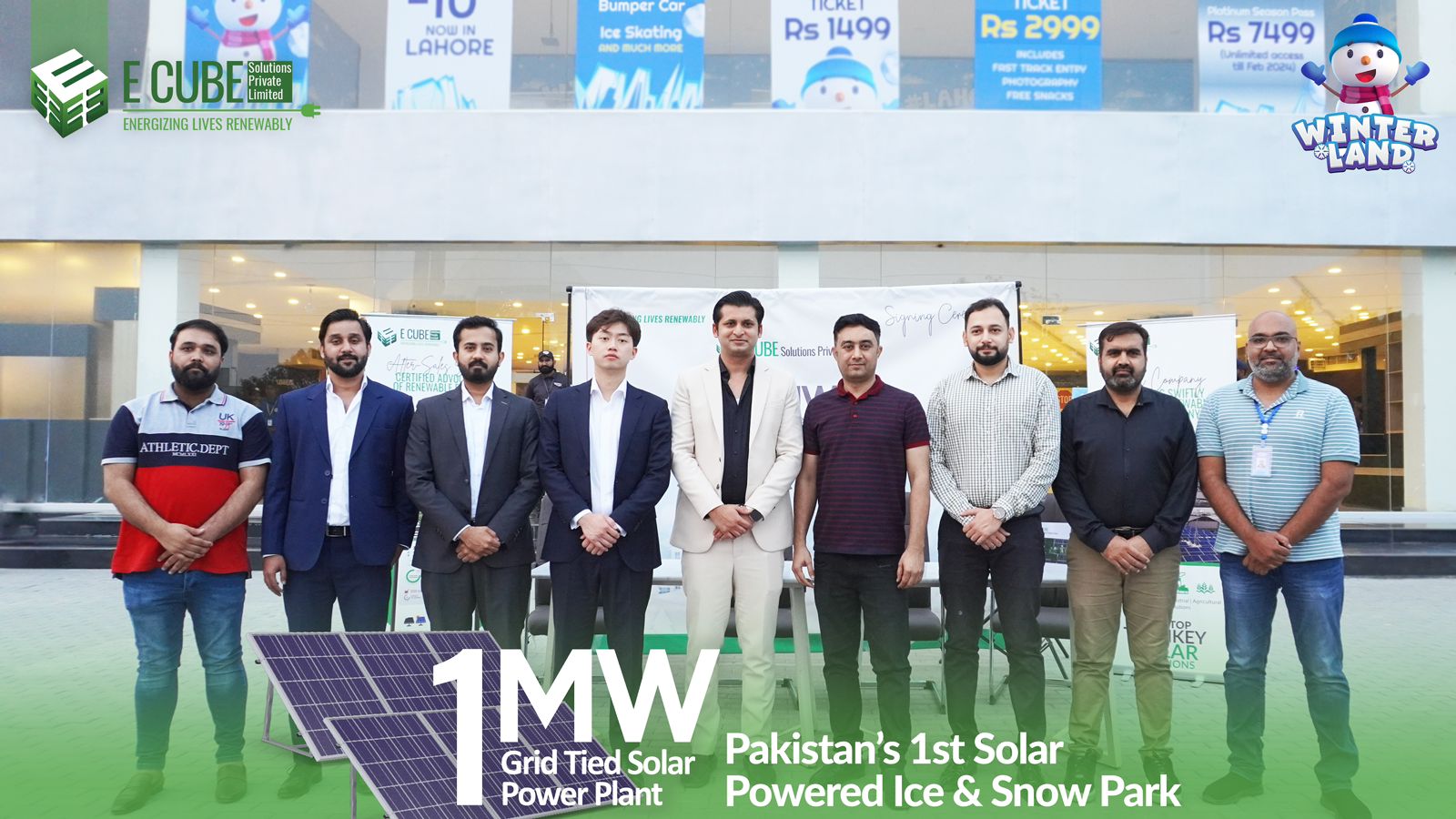 Pioneering Pakistan's 1st Solar Powered Indoor Snow Park
E Cube Solutions, a leading name in the renewable energy sector, is set to redefine the landscape of energy generation in Pakistan through a groundbreaking agreement with Winterland Pakistan and, the nation's premier indoor snow park. This collaboration marks the installation of a 1 MW grid-tied solar power plant at Winterland, a venture that will make Winterland the first-ever Solar Powered Indoor Snow Park in Pakistan. The project's significance lies not only in its innovative approach but also in the cutting-edge technology, dedication, and precision with which it will be executed.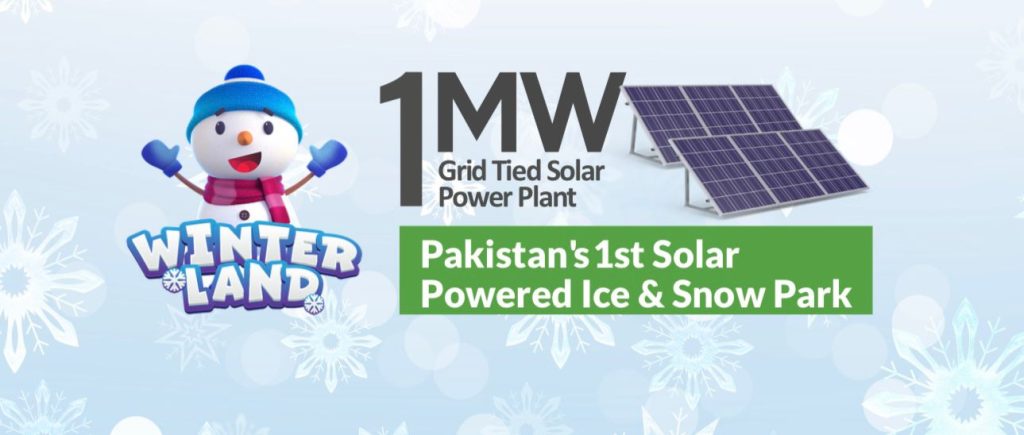 Winterland, nestled in the heart of Bahria Town Lahore, has always been a symbol of innovation and adventure. With the aim of enhancing sustainability, the Winterland team embarked on a journey to harness the abundant solar energy resource. E Cube Solutions emerged as the ideal partner to turn this vision into reality.
At this occasion, Mr. Faheem Ijaz – CEO E Cube Solutions Pvt limited addressed the attendees and shared:
This project signifies more than just the harnessing of solar energy; it is a testament to our commitment to environmental responsibility. The power of the sun is not only a clean and renewable source of energy, but it also holds the key to mitigating climate change and reducing our carbon footprint.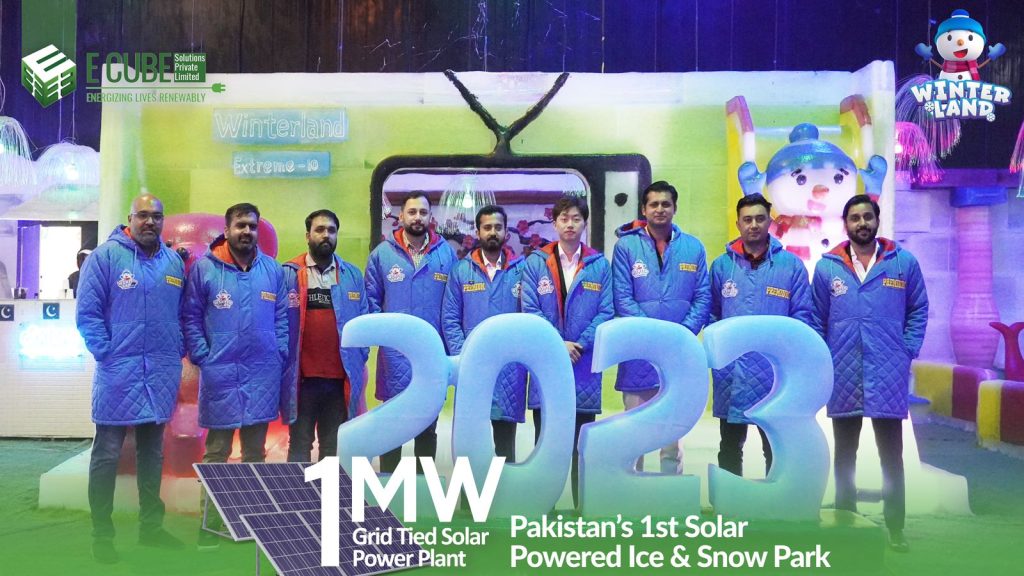 The 1 MW grid-tied solar power plant at Winterland is poised to set new standards in the entertainment and leisure industry. This ambitious undertaking is a testament to Winterland's commitment to environmental stewardship and reducing their carbon footprint.
One of the most remarkable aspects of this collaboration is the projected timeline for project completion. E Cube Solutions, known for its speed and efficiency, has set an ambitious target to have the solar power plant up and running in record time. This quick turnaround time will not only minimize the downtime for Winterland but also allow them to start reaping the benefits of solar power sooner.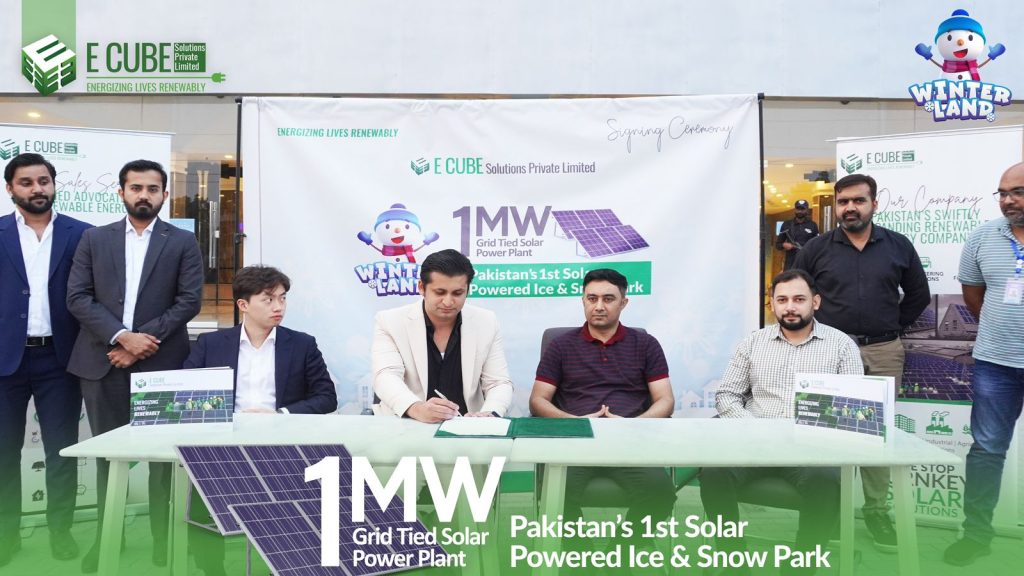 To achieve the desired efficiency and reliability, E Cube Solutions will deploy state-of-the-art equipment. The project will feature world-leading Fox ESS solar inverters, renowned for their advanced technology and exceptional performance. Paired with these inverters will be tier one solar modules, ensuring the highest energy production and long-term durability.
The environmental impact of this project cannot be understated. By harnessing the power of the sun to provide energy for Winterland's operations, the installation of the 1 MW solar power plant is projected to offset a significant amount of carbon emissions. This initiative aligns perfectly with Pakistan's commitment to mitigating climate change and promoting sustainable practices.
The collaboration between E Cube Solutions and Winterland exemplifies a forward-thinking approach to sustainability and innovation. As Pakistan's first Solar Powered Indoor Snow Park, Winterland is poised to set an example for other entertainment and leisure facilities in the region, showcasing the immense potential of solar energy.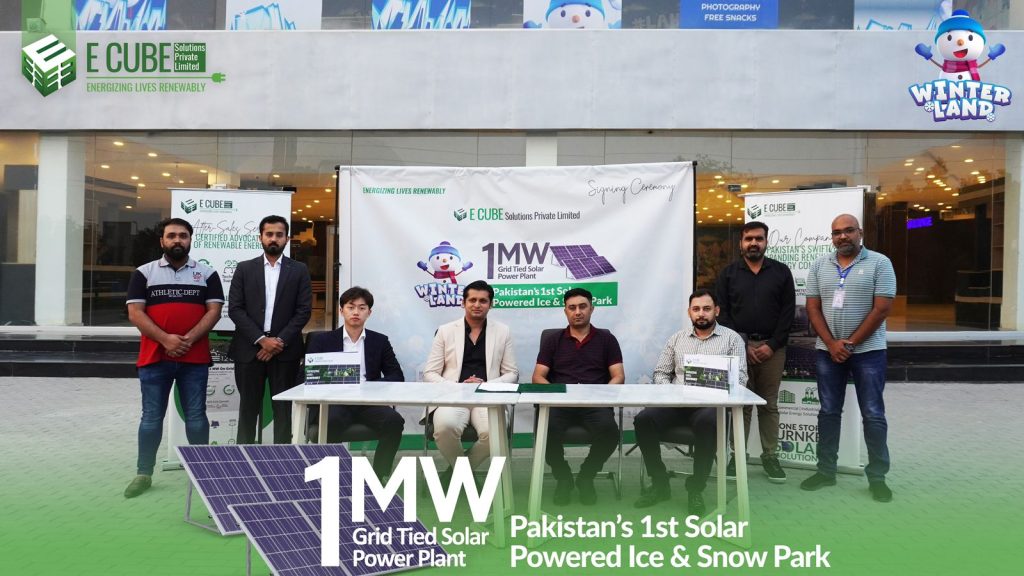 This partnership not only reflects the commitment of Winterland to environmental sustainability but also demonstrates E Cube Solutions' expertise in the renewable energy sector. As we look forward to the successful completion of this project, we anticipate that it will serve as a beacon of inspiration for similar ventures in Pakistan and around the world.
Together, we are forging a brighter, more sustainable future for all.